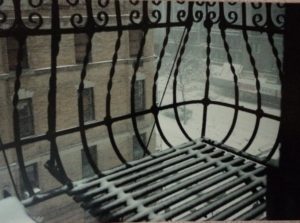 Back in the day, when I lived in New York in the 1980s, a new singer songwriter was getting a lot of attention—Suzanne Vega. I bought her first album as a cassette tape, and then had to buy it again because I wore out the tape. Eventually I bought the CD, which I found recently when I was reorganizing my music collection. I immediately played it, and aside from being transported back to that other place and time in my life, I was struck—again—by Vega's wonderful imagery and lyricism. Vega also frequently writes songs that tell stories, and many of her lyrics can be used as writing prompts. So in case these short winter days are short-circuiting your creativity, I offer as prompts, from Suzanne Vega's first album, lyrics from songs that tell stories.
"We go to the playground

In the wintertime

The sun is fading fast …

You stand

With your hand

In your pocket

And lean against the wall

You will be Bogart

And I will be Bacall …"

–"Freeze Tag"

"There's a sound

Across the alley

Of cold metal

Touching skin

And you can see

If you look in her window

That she has gone and cut

Her hair again …"

–"Straight Lines"

"'We had our

Neighborhood girl, she

Used to hang out, in front of

McKinsey's Bar, and we were

Interested in her, and her

Clientele …

We just wonder where she's gone …'

'Oh she's gone?'

'Yes, she's gone, gone, gone.'"

–"Neighborhood Girls"
And although this song is from Vega's second album, Solitude Standing, I have to add a few stanzas from the memorable "Tom's Diner."
"I am sitting

In the morning

At the diner

On the corner

I am waiting

At the counter

For the man

To pour the coffee

And he fills it

Only halfway

And before

I even argue

He is looking

Out the window

At somebody

Coming in …"

–"Tom's Diner"
Have fun with these!