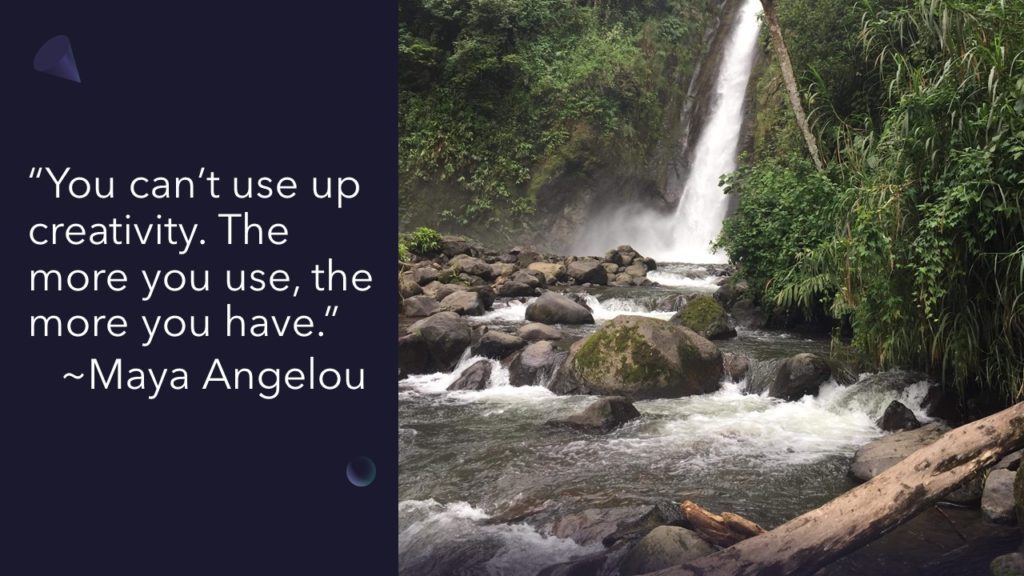 Give your readers clues to who your characters are through your descriptions of their homes, their workplaces, their cars, and the like. For a challenge, describe one of these places–or anywhere your character spends a lot of time–but keep your character out of it. Don't get into his or her head to explain why she chose that piece of furniture, why a ceramic bowl teeters on the edge of his nightstand. Don't make value judgments. Describe the color of a room as the same shade of green as the algae that covers the nearby pond, not as a judgmental bilious green. Simply by observing this space your character occupies, you may uncover surprising depths about who she is.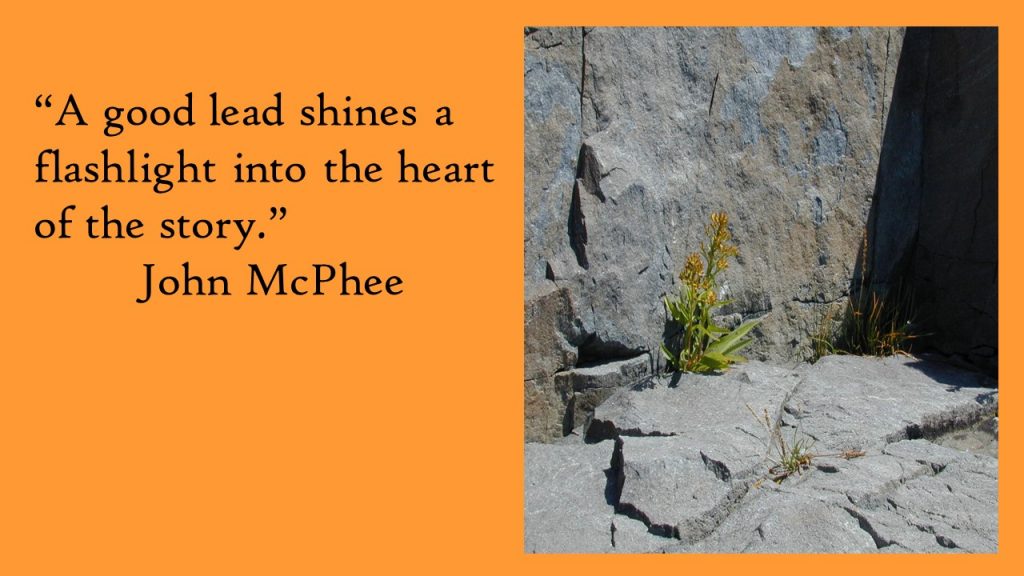 Some more song lyrics to use as prompts:
"Thirteen years old in the suburbs of Denver, standing in line for Thanksgiving dinner at the Catholic church … Styrofoam plates, cafeteria tables" (Death Cab for Cutie)
"Met my old lover in the grocery store, The snow was falling Christmas Eve" (Dan Fogelberg)
"Woke up, fell out of bed, dragged a comb across my head. Found my way downstairs and drank a cup, and looking up I noticed I was late." (The Beatles)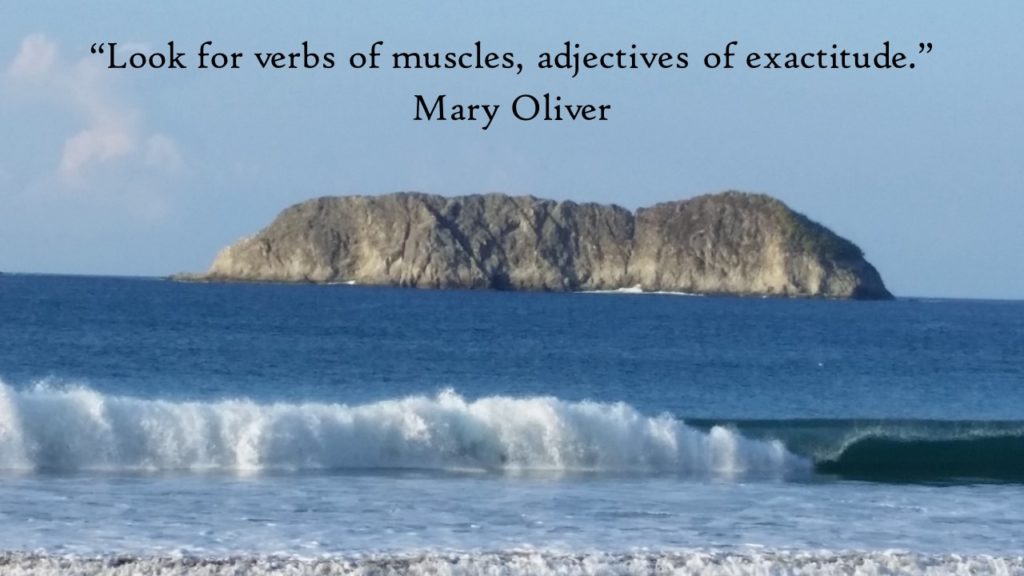 None of us reacts the same way to … well, anything. Such as an event we experience, an event we witness, a piece of news we hear. So if you're writing a work of fiction, your characters need to respond differently to the same experience. Respond "in character," as it were. As a student wrote in a class exercise this month, when a belligerent drunk got on the subway, one passenger acted with aggression, nearly starting a fight, while another passenger calmed the situation and spent twenty minutes talking to the drunken man (who had just lost his job). And how, I asked, would a fourth character, a bystander, react to all of this? Putting your characters in stressful, unexpected situations can help reveal aspects of them that you haven't understood. So, see what happens if your character is in a bank that's being robbed, or witnesses an over-the-top marriage proposal, or is sharing a small elevator with a squabbling couple. Have fun with it!
This is one of my favorite pictures, which I found on pexels.com. Use this as a prompt to start a story, or to describe what it's like to ride a bike in the rain, or to watch someone riding a bike, or anything that strikes you.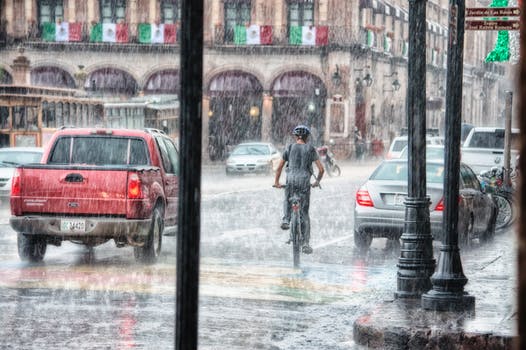 Look around. Inspirations for stories–or at least brief scenes or character sketches–abound. For me, there was the woman crossing the parking lot of an apartment building, wearing a faded yellow robe with orange hearts over sweatpants, with unlaced LL Bean boots. Or the young woman gassing up an old-style black Cadillac, engine running as she sat in the driver's seat, music loud, scrolling on her phone. And any abandoned car anywhere.
Pay attention to your surroundings–what you can see and hear; what the icy wind feels like as you walk along a river in the winter; the taste of a food you've never eaten before or a familiar favorite meal. Take note of what your senses experience and then write it down. It doesn't have to be long, maybe a sentence, maybe a paragraph. But make your description accurate and vivid. This practice helps to exercise your description "muscles," and also helps you to be more aware of the world around you, so that you can recreate it in your writing.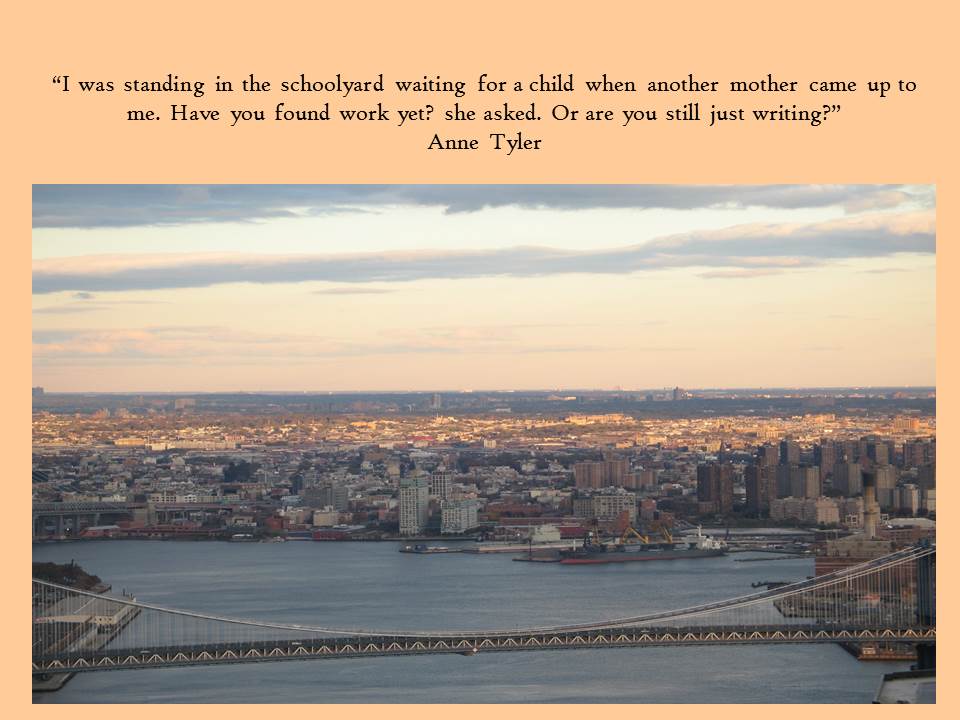 I often tell my students that story ideas are all around us. Intriguing strangers that we spot on the street can prompt questions: Why is she wearing sandals when there's snow on the ground? Why is he carrying a large stuffed kangaroo? A single line from a story we hear can send our imaginations swirling. (A friend once wrote a short story based on a comment she overheard at a cocktail party: "… and then she burned all of her furniture.") In a recent op-ed in the
New York Times,
I found numerous triggers for at least short essays, or descriptive paragraphs, or even a story or novel. The piece,
London Lost and Found
by Mahesh Rao, encompasses issues of home, of leaving home and coming back, of memory–enduring and failing–and of what we see and what we miss in the places where we live or visit. Read it and see what ideas it triggers for you.
In his book on writing, Zen in the Art of Writing, Ray Bradbury writes about the simple titles he gives his stories, such as "The Lake" and "The Town Clock." An article and a noun. So try that. Think of some nouns and consider what they prompt you to write. It could be a description–"The Mud Hole" would make you think of something different from "The Creek"–or an exploration of character. Who is "The Teacher"? What does "The Farmer" look like? Stretch your creativity so that you are not writing about a generic farmer or creek, but a special one that deserves special attention.
A friend posted on Facebook a question she never thought she'd hear her dad ask: "How much was that moonshine?" So there's your prompt. (Amazingly, Facebook can be good for some things.)

Earlier this year, a student gave me a cocktail napkin that reads: "Alcohol. Because no great story ever started with someone eating a salad." So write a scene–or a story if you get really inspired–that starts with someone drinking. And then write one that starts with someone eating a salad.

Someone writes under a friend's yearbook picture: Why didn't you ever dance with me?


Write two pages of dialogue between two people, but write only dialogue. No dialogue tags, no body language, no identification of who is speaking. It should look like this:

"When did you get here?"

"A while ago."

"So you want to do this?"

"I'm game if you are."

As you write, the speakers' voices should become increasingly distinctive, so that a reader would have no trouble following along. And, of course, eventually the reader should be able to figure out who these people are, where they are, and what they are talking about.

More song lyrics:

"I was working on a steak the other day. I saw Waddy in the Rattlesnake Cafe, dressed in black, tossing back a shot of rye." (Warren Zevon)

"I'm up in the corner nursing a beer, who should come laughing and joking in here but Bobby Brown, the winner of the sports car race, with some friends and a girl, man, she lit up the place." (Mark Knopfler)

Read advice columns. People will write in about the most unusual problems, and I often want to know more about either the person asking for help or the person/people she's writing about. I mean, how can you resist this one? A woman writes in, saying that her mother-in-law is an incorrigible gossip and tells the daughter-in-law things she really doesn't want to know; such as, Bob and Carol can't have children because Bob is sterile. Try writing a dialogue between the young woman and her mother-in-law. Or how about the sisters who haven't spoken to each other for twelve years and are about to meet again at a must-attend family function? What drove them apart? What will they say–and not say–when they meet again? And how about the other family members? How will they react?

Next time you're at the checkout in the supermarket, see what the other people in line have in their carts. What do those items tell you about them? What do you imagine the person's home looks like? Who else lives in that home, or does the person live alone? Write a scene of the person coming home and putting his or her groceries away.

First line: "Who finished the milk?"

"I remember …" Just write those two words down and keep going. See what arises. If you run out of things you remember and ten minutes aren't up yet, try "I don't remember …"

Sometimes song lyrics can inspire writing. So try these:

"I fumbled through my closet for my clothes and found my cleanest dirty shirt." (Kris Kristofferson)

"Put your makeup on, fix your hair up pretty and meet me tonight in Atlantic City." (Bruce Springsteen)

"The yard is full of rubbish, it's a mess and the neighbors must think we run a meth lab." (Courtney Barnett)