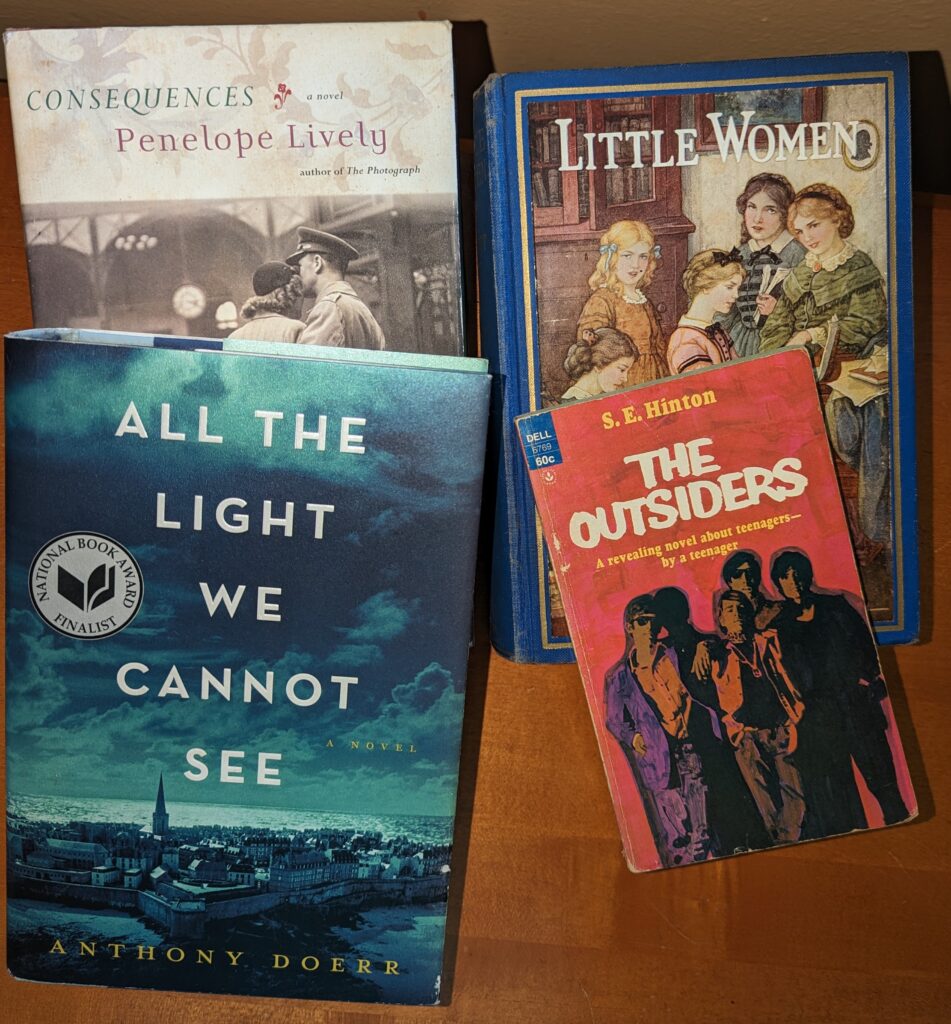 During a recent class, I discussed rhythm, starting with a passage from Ursula Le Guin's excellent Steering the Craft, and moving on to Virginia Woolf's equally excellent explanation: "Style is a very simple matter; it is all rhythm. Once you get that, you can't use the wrong words." Simple, right? I then read aloud one of my favorite examples of style/rhythm/right words. It's three paragraphs (slightly condensed here) from Penelope Lively's Consequences.
In June, the start of June, she is outside the door, filling the bucket from the tap, when she hears the gate whine on its hinges. She turns, and there is the postman, so she smiles, and waves.
But the postman is neither smiling nor waving. … The man is beyond apology; he is felled by what he has to do, made speechless. He simply holds out the telegram, avoiding Lorna's eye. … She knows, too, at once. She stands there in the sunshine, knowing, and takes the envelope, and the postman turns away, and goes.
Even if you don't know the background of this scene, you know what has happened. Lively has found all the right words, and the rhythm is perfect.
I asked my students to send me some of their favorite passages. One student wrote that she marks her books with the letters STLA—Sentences to Look At—and frequently revisits those passages. She sent the opening of Anthony Doerr's All the Light We Cannot See:
They cross the Channel at midnight. There are twelve and they are named for songs. Stardust and Stormy Weather and In the Mood and Pistol-Packin' Mama. The sea glides along far below, spattered with the countless chevrons of whitecaps.
Another student added two quotes from The Shawshank Redemption by Stephen King:
Some birds aren't meant to be caged, that's all. Their feathers are too bright, their songs too sweet and wild. So you let them go… And the part of you that knows it was wrong to imprison them in the first place rejoices, but still, the place where you live is that much more drab and empty for their departure.
Get busy living or get busy dying.
One student recently read Little Women for the first time. Her contribution was lengthy, describing how Jo coped with Beth's death. I quote here the first paragraph, but all of it is worth reading:
Poor Jo, these were dark days to her, for something like despair came over her when she thought of spending all her life in that quiet house, devoted to humdrum cares, a few small pleasures, and the duty that never seemed to grow any easier. "I can't do it. I wasn't meant for a life like this, and I know I shall break away and do something desperate if somebody doesn't come and help me," she said to herself, when her first efforts failed and she fell into the moody, miserable state of mind which often comes when strong wills have to yield to the inevitable.
And finally, a two-word sentence from my last student, from S. E. Hinton's The Outsiders, a book I nearly memorized, I read it so often as a teenager. Johnny says it to Ponyboy, referencing Robert Frost's poem "Nothing Gold Can Stay" (also a wonderful example of rhythm and right words, as all the best poetry is):
Stay gold.